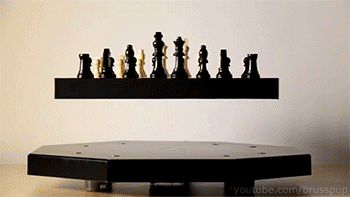 On a warm Sunday morning in September, Bahar Hallaeva, the 3rd ranked female chess player in Turkmenistan, and the 801st best International Chess Federation (FIDE) registered woman in the world, was playing her second round of the day in the basement cafeteria of PS 183.
Her opponent began to fidget, then glance at the neighboring game, then got up and took several steps in a circle. This would be a major breach of the social contract that exists in much of the competitive chess world, but it failed to faze Hallaeva. In fact, the 31 year old's stoicism made her stand out from the other competitors sitting at the low child-sized lunch tables. Her opponent was 10 year old Dylan Ma. Almost all the entrants at Chess NYC's Play N' Go tournament were between the ages of four and thirteen.
Hallaeva was invited to the tournament as a designated ringer, there to provide a challenge to the top ranked entrants and make sure there were enough players for everybody to play three games. The event's organizer had offered an additional $100 to anybody who could beat her, on top of the $100 to be awarded to the top scoring player in each of the top two "quads" that the tournament was divided into.
"It was a tough game—he was pretty good," Hallaeva said during the five-minute break that followed the match. A professional player and coach who has been playing chess since the age of nine, she can recall facing much older opponents when she was a child. "When I was a kid I would play against grownups for a challenge, so I think it is good practice for the little ones. It really helps to develop your skills."
Although in the end nobody managed to claim the $100 bounty, Hallaeva was not overconfident. "You know, sometimes even good chess players can blunder, and if something like that happens there is a chance." In fact the tournament was fully registered with the FIDE, with all matches officially recorded and reported.
The one to put a bounty on her head was Michael Propper, the director of Chess NYC. Propper, a city native and the former president of School District 2's Parent Council did so during opening remarks delivered with an energy and volume he also employed while coaching a student basketball team.
"There is a lot of agony in watching them play, and there is a lot of reward in watching them play," Propper warned parents while laying out the ground rules for the tournament.
Unlike many chess tournaments, parents would be permitted to both observe games in progress from across purple-and-white dividers ringing the lunch tables and speak with competitors between matches. Most modern tournaments do not allow physical spectators at all, relegating friends and family to a separate room where there is no chance of either interference or distraction.
"You won't ever see this anywhere else," Propper impressed upon the gathered parents, "you'll be able to talk to them in-between matches, and discuss errors that you see, and the idea is to make you a de facto coach. What you may not do however is impact or influence the outcome of a game." This rule is taken seriously, but Propper is glad to say that there is only one disqualification in 12 years, when a girl turned in her own mother for suggesting a move.
"This is about developing their play before they go to those bigger, less friendly environments, stuffier tournaments. We want to get them to where they feel good about their game, they understand what their level of play is, so they can go in there with blinders on and just destroy children they don't know," Propper emphasized with a clap.
Chess NYC's Play 'N Go tournament format is designed to encourage that growth by not only keeping parents nearby, but by giving each player only 25 minutes to contemplate their moves. If a player runs out of time, they lose the match. Especially among the youngest players, this was plenty of time, and several of the judges encouraged them to slow down and contemplate their moves more. Not everybody needed that reminder.
Jude Kazan, an energetic 9-year-old, has an interest in math, science, and basketball, but likes to spend weekends at tournaments. His preferred strategy is a strong line of attack known as "The London System," which Jude is glad to relate in great detail.
He is also happy to explain the rating system used by FIDE.
"The best player in the world, his name is Magnus Carlsen, his rating is 28-eighty something I'm guessing. That means he's the best in the world, no-one is higher than that rating. And I'm 1500, but if I go to 2900 that means I'm the best in the world because I'm better than him."
Like many FIDE certified matches, Play N' Go awards 2 points to the winner of a match, 1.5 points to each player in a draw, and at least 1 point for each game played. To better reflect what is at stake in each match, a complex formula is applied to these points based on the relative rankings of the players. This means that an inexperienced player who manages to force a highly ranked opponent into a draw will earn far more points than that opponent would get were they to win.
Jude typically plays in tournaments with more traditional rules that emphasized a much slower pace of play reported his father Roman Kazan. Roman, who owns an internet hosting company, had registered Jude online when no other tournaments turned up. "He takes it very seriously," he said with an eye towards his son, who seemed to be watching the registration table.
Jude went into his first match in high spirits but found himself short on time by the end. His opponent, the quiet but determined 9-year-old Nico Alvarado, a shy girl encouraged to try chess as an alternative to video games, played with a similarly slow, contemplative style. When she made a misstep late in the game, Jude had to make a flurry of moves with just 20 seconds remaining on his clock in order to turn the game around.
His next opponent played a faster game, which proved challenging for Jude to adapt to. As the match continued, the disparity in time grew, with Jude devoting whole minutes to moves.
Watching from the sidelines, Roman tried to parse how the match was going. "I'm just looking at his expression. I'm not a chess player, so I'm just looking at how he's doing. He doesn't do fast games, his games are typically three hours long."
When asked how he thought Jude was feeling at that moment, as the remaining time shrank and shrank Roman painedly replied "I don't know."
Roman explained that Jude takes his losses to heart. Especially when they are close. "If it's a game that he feels like he was going to win, but he loses on time in the last minute, or he finds out the other person is a much lower rated player… he'll be in tears…but he'll recover. In like half an hour or so."
Jude did time out in the match, and his eyes were wet as he took his next break. Roman murmured encouragement as he pressed his son to pick from among the granola bars and other choices packed into a plastic baggy. Although tears begin to flow, Jude allowed himself to be coaxed into eating a packet of fruit snacks.
The structure of Play N' Go means that after three rounds, each with a different opponent, each contestant will simply leave. Jude would have to wait at least another week for a chance at any rematches. The prize money was also set to be received at a later date. But Propper hopes that as they grow in both skill and maturity, the next generation of competitive chess players will be hungry for more than cash.
"Winning is sweet," he explained during the opening, "but revenge is ten times sweeter."